About Villa at Windsor Park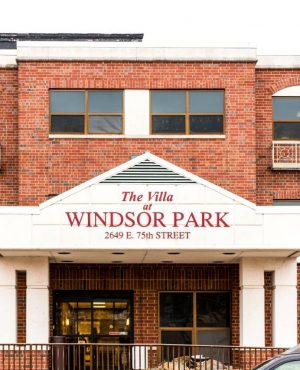 The Villa at Windsor Park, located in Chicago, Illinois, opened its doors in November 2010 with a renewed commitment to making people better. Windsor Park began Villa Healthcare's journey, and since then, our 194 Villa team members have welcomed countless guests and their families. We look forward to welcoming you.
As much as our centers focus on providing hotel-like amenities, at their core they are premier medical establishments. We understand the value of the small luxuries and comforts our guests enjoy at a hotel, and we don't take that for granted. It's with this in mind that we have created a unique Concierge Services program. Our dedicated team of Villa Concierge representatives will make sure that your needs are taken care of—after all, you are our guest!
At The Villa at Windsor Park, our guests experience a high level of individualized care in a luxurious, comfortable setting. Rich wood finishes and spa-inspired touches create the perfect atmosphere for rest and recuperation. Special amenities include beautifully appointed private suites, contemporary furnishings, elegant dining and recreation rooms, and a state-of-the-art therapy center.
Working for you means working with your Insurer.


Our clinical liaisons meet with guests and their families at the hospital before discharge to ensure a smooth transition. In addition, we are committed to helping guests maximize their medical benefits through Medicare, Medicaid, and most insurance plans. You can count on us to do everything we can, and to never settle, as we make your transition, and your recuperation, as easy and comfortable as possible.

Advocate Medical Group
Aetna(MNS)
Aetna Better Health
Beech Street
Blue Cross/Blue Shield of Illinois
Cigna
Cofinity
ILS-Humana
Illinicare
Meridian
Molina
Mulitplan
Next Level Health
WellCare

All Villa Healthcare locations are owned and operated separately.