Making people better

Skilled Nursing Home in Chicago, IL

Skilled Nursing Home in Chicago, IL

You want the best for an aging loved one in need of care. Finding a center that offers a comforting environment and a full suite of clinical programs is sure to be at the forefront of your mind. Consider our skilled nursing home in Chicago, IL, and get more than just medical services.
When a loved one is in need of acute care in the aftermath of a surgical procedure or compassionate hospice care in the twilight of their years, our team members are ready to make a difference. We invest in our team to ensure they have the skills and experience to produce positive outcomes. This allows us to focus on providing care that makes people better.
A Passion for Making People Better
You are sure to notice a difference in our approach the minute you walk through the doors of Villa at Windsor Park. We want your loved one's stay at our center to be as comfortable as possible. In this delightful setting, our skilled nurses and physicians provide the guest with a full suite of clinical programs, including:
Cardiac Care
Stroke/Movement Disorder Recovery
Wound Care (Through Our Partnership with WoundRounds)
Transition Management
Memory Care and Moments of Delight
Our mission guides us in everything we do. Your family member is our priority, whether they are looking for short term recovery after surgery, injury or illness or they need long-term care. Everyone is considered our guest, and they have the option to live their lives on their terms. With an attentive staff and fresh, healthy dining, we're able to cater to every one of your loved one's preferences. Contact us today to schedule a tour of our center and start a discussion about our approach to post-acute and long-term care.
Villa at Villa at Windsor Park's Clinical Programs:
Alzheimer's/Dementia and Memory Care
Villa centers provide gender-specific, tiered memory-care support in a safe and nurturing environment, with emphasis placed on enhancing our guests' daily life skills.
Cardiac Care
Villa's on-site primary-care physicians take a comprehensive approach to cardiac care. At our centers, our physicians help guests recover from life-altering cardiac events by providing the rehabilitation, coaching, and support necessary to make lifelong adjustments to their diets, levels of activity, responses to stress, and management of medication.
In-House Dialysis Care
By combining their experience, state-of-the-art NX Stage technology, and unparalleled training, the Villa clinical team provides a comprehensive approach to serving guests who require complex renal care. The care program includes bedside interdisciplinary weekly rounds, home dialysis training, and on-site assessments.
Ventricular Assist Device (VAD) Care
Villa centers that offer VAD care have trained staff on how to use and maintain VAD equipment, including changing dressings around the driveline exit site. Villa staff are also trained to educate VAD guests on how to sleep, batch, and exercise with VAD. Our teams ensure that all medications are taken properly and that recommended nutrition guidelines are followed..
Medically Complex and Post-Surgical Care
With physicians and advanced-practice nurses rounding daily, Villa Healthcare centers are able to manage the needs of people with multiple diagnoses, advanced post-surgical needs, or complex medication requirements.
Orthopedic Rehabilitation Therapy
For Villa guests who are recovering from surgeries or injuries, our Orthopedic Rehabilitation Therapy program offers a comprehensive rehabilitation and pain-management protocol. Our licensed therapists are led by primary-care physicians and specially trained to help Villa guests reach their full potential and return home with confidence in the shortest appropriate time frame.
Palliative and Hospice Care
Villa centers provide attentive end-of-life care to patients and support the needs of their loved ones in a respectful, compassionate, and comfortable setting.
Post-Discharge Follow-Up
At Villa, your health is of primary importance to us. We continue our care for our guests even after they've been discharged. Our team checks on the well-being and health of guests in order to prevent complications and future hospital readmissions.
Pulmonary and Respiratory Care
Villa's pulmonary and respiratory care programs are led by board-certified primary-care physicians. The specialized medical care they provide is combined with respiratory, physical, and occupational therapy in order to maximize our guests' functional independence, energy conservation, and endurance.
Long-Term Care
At Villa, we approach long-term care as a range of services and supports needed to meet our guests' personal care needs. We assist our long-term guests with basic personal tasks, such as bathing, dressing, eating, and so on. We also keep our long-term care guests engaged through various activities and social programs.
Stroke/Movement Disorder Recovery
With board-certified primary-care physicians and a full complement of experienced physical, occupational, and speech therapists on staff, Villa centers provide our guests with research-based protocols, daily comprehensive therapy, medication management, and long-term skilled care for guests with complex neurological conditions.
Transition Management
Villa centers are committed to ensuring that guests transition seamlessly back to their homes and communities.
Wound Care
Weekly rounds at Villa centers are conducted under the direction of a certified wound specialist. In conjunction with our head nursing staff, our wound specialists attend to guests individually in an effort to prevent infection and maintain exceptionally high success rates in healing even the most difficult wounds.
Our clinical programs are developed in accordance with evidence-based protocols, led by board-certified physicians, and staffed by highly trained medical personnel.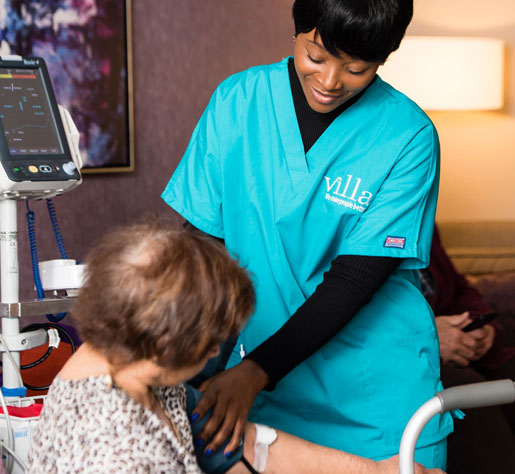 At every level of our organization, we challenge ourselves to be the best. Many patients require specialized care related to specific diagnoses, and Villa's quality-first approach has resulted in outstanding outcomes.